Height adjustable Desk

Buying Guide
How about standing up to do your best work? Take a stand and learn about the perks of height-adjustable desks!
Stand and Deliver (Your Best Work)!
The Benefits of Height-Adjustable Desks
Do you do most of your work behind a desk? Then you know the pain of sitting for long periods and the accompanying fatigue, soreness, stiffness, loss of concentration and back pain. Yet did you know that with just the touch of a button you can achieve new heights in comfort and pique your productivity?
Paired with an ergonomic office chair, a height-adjustable desk is a must for an ideal workstation, whatever your office setting — remote or on-site. You can easily move it up (and back down) to a standing height, experience improved circulation and focus and prevent health issues associated with prolonged chair use. For those of us who are on the shorter side, a height-adjustable desk means that we can finally sit at the right desk height, which prevents back pain and other ailments caused by ergonomic misalignment. So take a stand and learn about the perks of height-adjustable desks.
Why Choose a Height-Adjustable Desk?
Yes, a height-adjustable desk means standing up to work! It's immensely beneficial to switch from seated to standing positions and vice versa throughout the day, which can do wonders for your productivity and well-being.
According to research by the Mayo Clinic, standing has so many health benefits over sitting, that you'll want to get up out of your chair right now! Sitting 8 hours a day puts us at risk for heart disease, weight gain, diabetes, soft bones, muscle degeneration, back pain, and leg pain and blood circulation problems. Sitting causes blood to pool in the legs, which can cause blood clots and varicose veins. A study by Liverpool John Moores University in the U.K. found that people who sit for long periods of time suffered from reduced blood flow to the brain. Normal blood flow is restored by walking breaks, or standing up and moving your legs.
The Right Desk Height for Every User
A height-adjustable desk will not only allow you to work while standing but also help you attain an ergonomic sitting posture — especially if you're short or very tall. Fixed-height desks remain "stuck" at their standard 29″-30″ height from the floor to the worksurface.
A height-adjustable desk allows you to move your desk to the preferred height for your stature. If your desk is not positioned correctly, you're likely to sit in a position that throws your whole body out of alignment — from the wrists, shoulders and back to the lower extremities. This can cause repetitive stress injuries and musculoskeletal disorders such as carpal tunnel syndrome and back pain.
If your desk sits too high, you strain your wrists and upper arms as you reach up to type and mouse. This could be fixed if you use a keyboard tray. If it's too low, you might slouch and lean away from the support of your chair's backrest.
With a height-adjustable desk you can smoothly and easily cruise through your workday at your desired altitude.
Peak Performers That Boost Your Productivity and Well-Being
Make sure you select a desk that can support the weight of your monitor and any accessories such as keyboard trays and monitor arms. This is especially important for users working with several monitors. Weight is not really an issue when the top is only 48″, but be aware that different bases have different weight capacities. Obviously, you want your desk to move easily and smoothly. Some electric models have a little button to press and hold down while others feature a small paddle.
Medium to higher-end models feature dual motors. Compared to a single motor, two motors offer a higher load-bearing capacity and a controller that stores multiple preset settings and displays the current desk's height. Pneumatic models are available as well but are not very common. Besides the standard anti-collision safety feature, a great warranty is another plus.
Check out some of our favorites:
ESI's Brisa boasts visually distinctive design. It features electric height adjustment with a 1.4″/sec. adjustment speed and a height adjustment range of 26.1″. Adjustable legs support an adjustable-width frame (43.3″–70.9″) with a 220 lbs. base lifting capacity. Brisa has two motors and is highly customizable with 36 different color combinations for columns, shrouds and the foot. It takes just about ten minutes to install.
ESI's Enmo is a great budget-friendly option. It offers 17.4" of height adjustment with a speed of 1.3"/sec. per adjustment. The Enmo's adjustable-width frame accommodates work surfaces between 48"–72″. It features two adjustable legs and has a 220 lbs. base lifting capacity. It comes with two motors, boasts a soft start and stop, and an anti-collision safety feature. You can also opt for a three-legged corner desk version.
Both the Enmo and Brisa have a warranty of 15 years (structural) and 7 years (mechanical). ESI work surfaces can be made to exact dimensions. Cable management keeps everything organized.
Hat offers a variety of desks and bases. Their Mid HAT Rectangular SUHAT is super easy to assemble thanks to its "Folding HAT frame design." It features two stage legs that adjust from 27.25″-46.75″ and an expandable width frame. It comes with dual sync motors, and also boasts an anti-collision safety feature and an LED four-position programmable handset.
The Hi HAT Rectangular SUHAT has a base that can move higher than normal for really tall people and also very low, with a range of 23.75″-49″. Hat bases are recommended for desks that are 72″ wide and for users who have a good amount of weight on the top. Their bases can lift up to 300 lbs. HAT frames are warranted for their lifetime and electrical and mechanical components for 7 years. Available colors for base finishes are silver, white and black as well as a very cool hue called raw steel.
If you are looking for a desk setup that conceals the mechanism of the height adjustable base, we have several options:
Canyon Series by Maverick
The Canyon Series collection offers value and aesthetics. It is available in 18 standard laminate colors and two premium colors. It features a frosted glass front, silver trim under top and base. Newly redesigned to conceal a height adjustable base as part of the pedestals, this collection will give your office an impressive look.
This stylish high-end option delivers refined aesthetics for the contemporary professional as well as for the classic executive, and incredible customizability thanks to the fact that you can partner it with a set of modular elements in coordinating heights and depths. The OFS Aptos Height Adjustable Desk comes in different work surface materials such as veneer in several beautiful finishes, solid surfaces, and painted wood.
Ascari is one of the most high-end desk setups that we offer and most of our clients for this series are successful executives, celebrities, and discerning people. This desk collection blends in beautiful aesthetics, details, and function. Nucraft offers beautiful veneers for you to choose from and glass and metal elements to the accompanying units. The height-adjustable Ascari desks (freestanding, L-shape, U-shape or T-shape) are equipped with a programmable controller with four programmable preset stops.
Note that you cannot shop for the Aptos and Ascari online due to their wealth of choices for materials, colors, and dimensions. Please contact us to further discuss your project.
You can significantly improve your health and productivity at work by opting for a height-adjustable desk. Along with an ergonomic office chair, it's a standup investment to boost performance, focus, and for anyone working long hours behind a desk.
At our Alan Desk showroom, we can demonstrate the whole gamut of what's available in terms of height-adjustable desks: budget-friendly, top-of-the-line, single motor, dual motors, cantilevered design and more. Come in and let us help you find the best solution for you.
CHECK OUT OUR OTHER GUIDES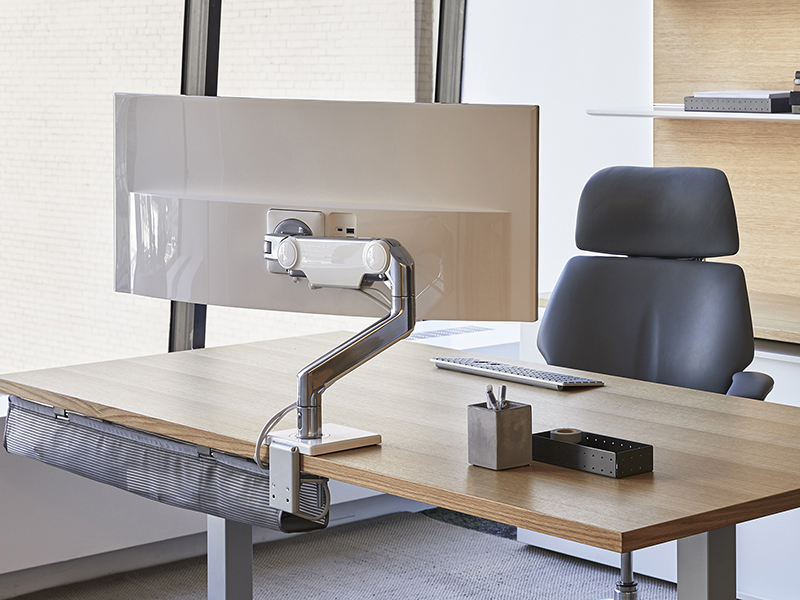 How to Choose the Best Monitor Arm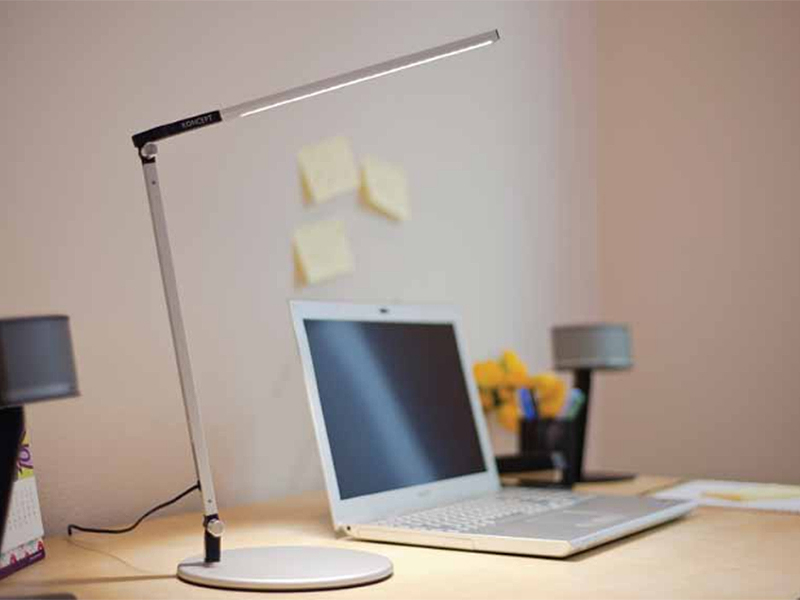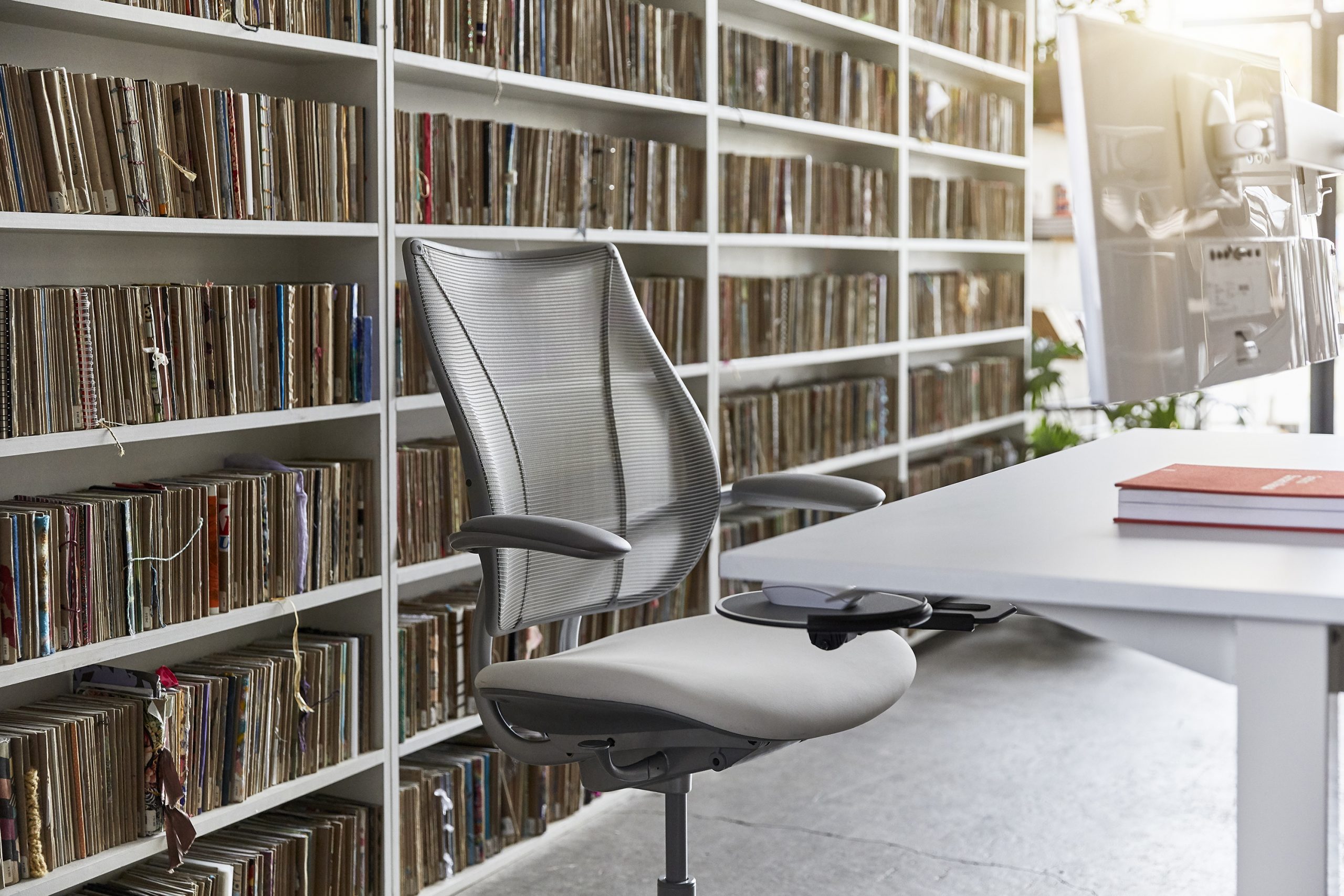 How to Choose an Ergonomic Chair
HEIGHT-ADJUSTABLE DESKS
work • study • play

Check out our wide range of height-adjustable desks and pair it with one of our ergonomic task chairs